Waterproof Cat Litter Mat Catcher EVA Cat Litter Trapping Clean Pad 
BEST MAT EVER! No more getting litter stuck to my feet on a daily basis! Large holes are large enough to catch and trap litter. Suitable for lots of type of litter, and kitty litter boxes, hooded, self-cleaning litter box.
Why you need this product?
If you are a cat lover, you must have live this moment, the cat litter scattered all over the floor by your dear partner. The cat litter might even get all over your furniture and shoes. Cat likes traveling all over your house, and they don't want to do that either.
Want to save you time and energy cleaning your floor on a daily basis? Our product is a must for you. Just put it under your cat litter box, or the entrance area of your litter mat. It will automatically catch and trap all the cat litter your litter fellow brings. Then you will earn back a cleaner environment for you and cat.
Features:

ANTI TRACKING EZ OPEN EDGE LITTER MAT: Double-layer honeycomb design helps you gather the litter. You just pick up the mat and all the litter falls through and then dump it back in the litter box make it recycling.
WATERPROOF/URINE PROOF MAT: Bottom layer is waterproof and also slip-resistant which will not allow any liquid to go through and easy to move. If you have a cat vomit on the mat, you can hose it off, easy to clean and be dry. Protect your hardwood floors and carpets from nasty urine stains. Prevent the cat's urine from getting everywhere.

EASY CLEAN WASHABLE LITTER MAT: Our cat litter mat is an upgrade mat, it made of soft durable and washable EVA. Dirt can be removed super easily. You don't have to sweep up or vacuum the litter everyday. Save time and strength!! Plastic cat mats have to use a vacuum to clean cat litter and still cannot be thoroughly cleaned.
PHTHALATE & BPA FREE: Great litter trapping mat, comfortable on tender paws. Many other mats use rough materials that may hurt kitties. Our premium comfort mat is Phthalate-free and our super soft EVA material is gentle for sensitive cat paws. Cats even like to step on or have an afternoon snooze on it.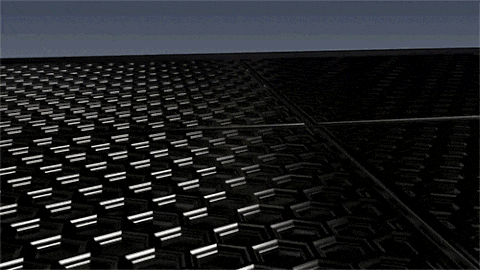 For someone who has problems with :
Getting litter stuck to your feet.

Litter get tracked all over the house.

Have to sweep or vacuum the area in front of the litter box 3-4 times a week.

Your lovely kitty has tender paws.

You have 2-3 cats, and the litter mat is too small.

Newly bought cat litter trapping mat smelly.